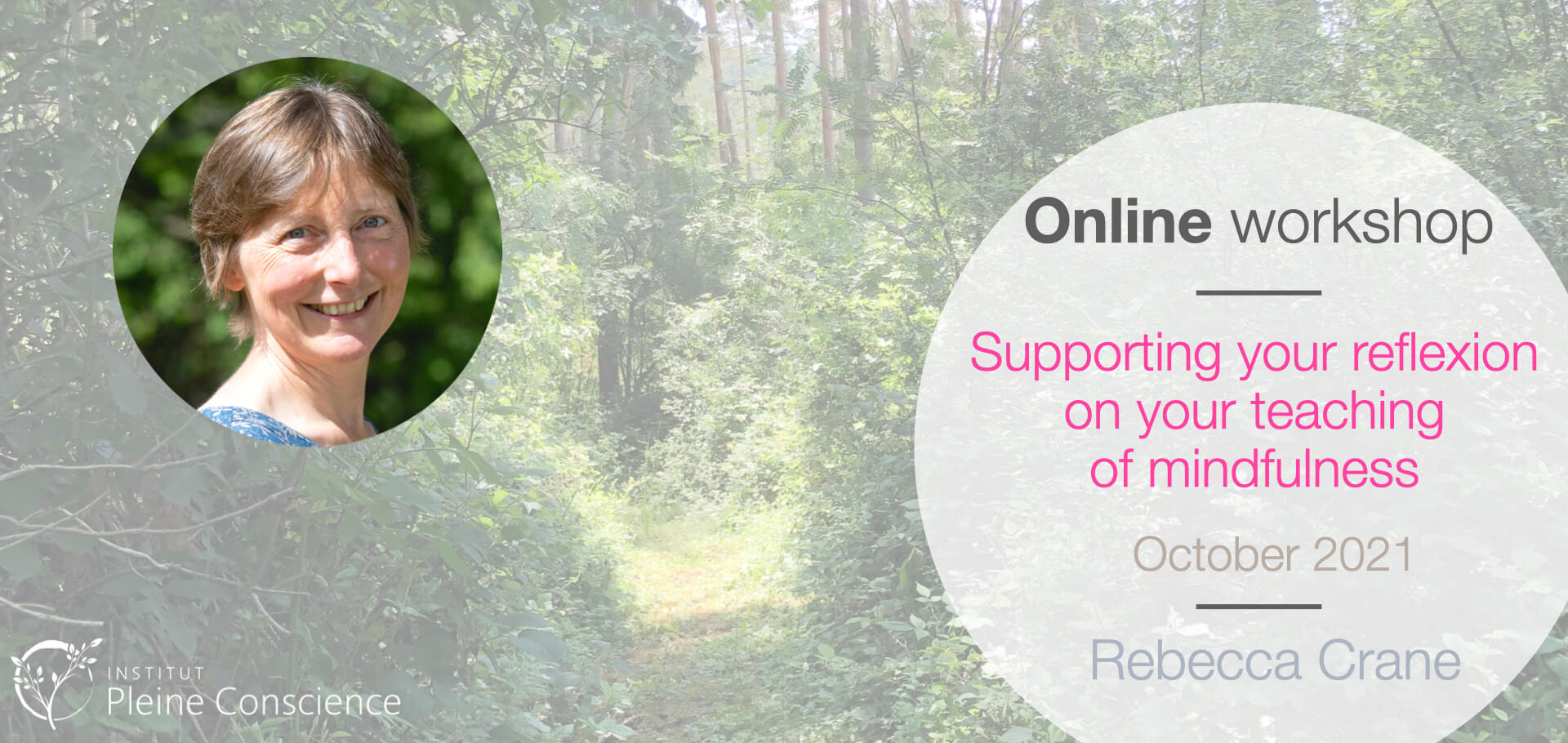 Online workshop for MBP teachers
with

Rebecca Crane, Ph.D.


October 15 and 29, 2:00 pm – 5:30 pm CET
Mindfulness-Based Intervention :
Teaching and Learning Companion – MBI :TLC
Nous sommes heureux d'accueillir Rebecca Crane, PhD, MA, directrice du Centre for Mindfulness Research and Practice de l'Université de Bangor, pour un atelier de deux demi-journée sur le MBI:TLC, tout nouveau « compagnon » issu du MBI:TAC, permettant à tout instructeur de s'engager dans une réflexion personnelle stimulante, accessible et bienveillante au sujet de son enseignement.
We're delighted to welcome Rebecca Crane, PhD, MA, director of the Centre for Mindfulness Research and Practice at the University of Bangor, for a two half-day workshop on the MBI:TLC, new « companion » developed out of the MBI:TAC, allowing any instructor to engage in a self-reflexion about his/her teaching that is stimulating, accessible and kind.
Description
This two part workshop will introduce you to the MBI:TLC and how to use it to support your development as a Mindfulness-Based Programme (MBP) teacher. The MBI:TLC developed out of and is closely structured on the Mindfulness-Based Interventions: Teaching Assessment Criteria (MBI:TAC) which offers a mapping of teaching skill and is now used worldwide to assess MBP teachers. The MBI:TLC comes from a different perspective – it is designed to support your reflection about your internal process as an MBP teacher – – the 'inside-out' feel of things. The self-reflective process we are inviting here is part of your mindfulness practice – noticing when you move into criticism or praise, and being aware of any bodily or emotional responses. Remembering, that while we hold the aspiration to be as skilful as possible in our teaching, it is also important to allow ourselves to be where we are from moment to moment. Playing with holding the natural (and wholesome) wish to be a 'good' MBP teacher with kind awareness, yet not being driven by it.
The workshop will enable you to build familiarity with the tool so that you can take it away and use it to support personal, peer and supervisory reflections. In between the two taught sessions, participants will be invited to join two peer led sessions to practice using the tool.
The TLC is available here and will be available translated into French before the start of this training.
Important notice
Format: online (Zoom plateform). 48 hours before the workshop, you will receive an email with the link to access to the « Zoom » room.
Language: the workshop will be taught in English, with consecutive translation in French.