FULL – registrations closed –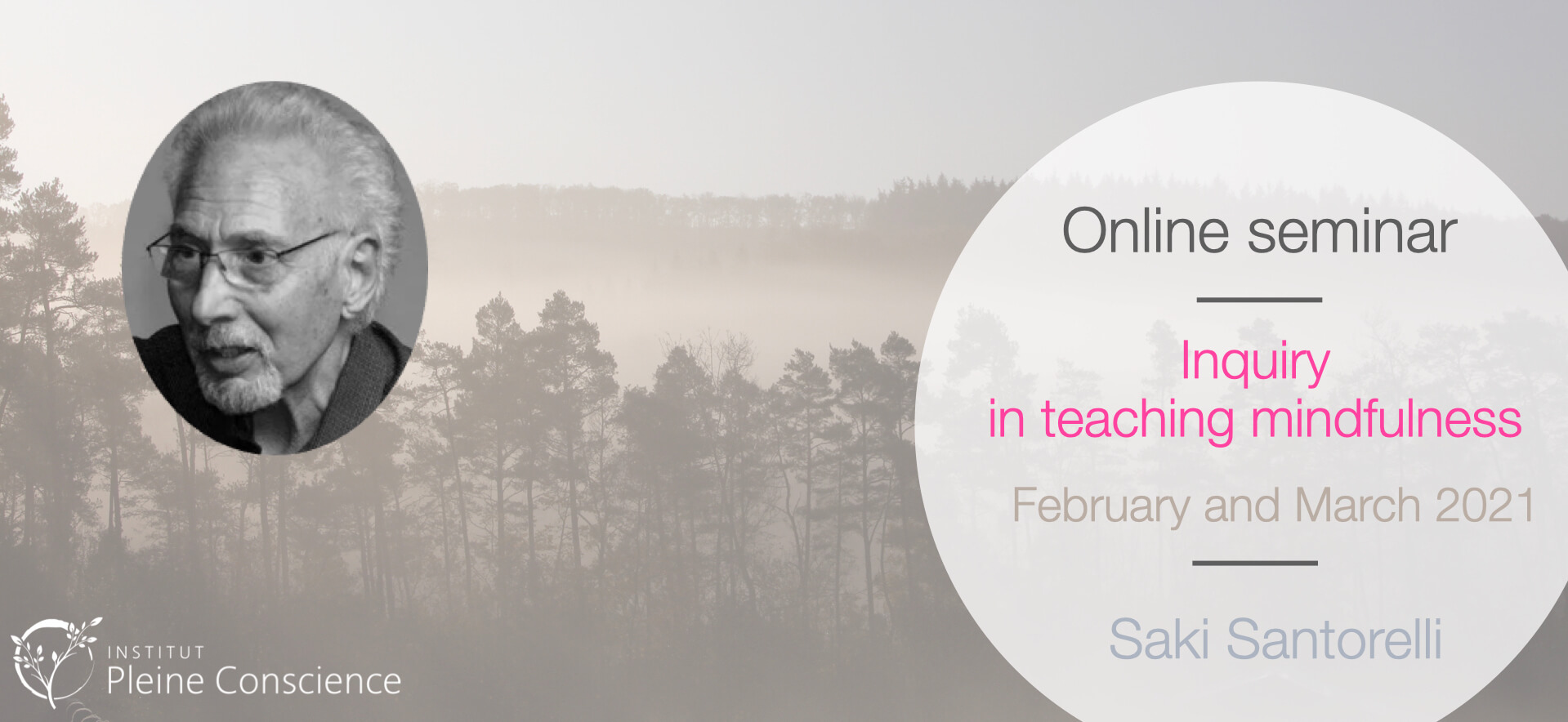 "Standing in Open Space:
Dialogue and Inquiry in MBSR and Other MBP Classrooms"
Weekly

online

seminar, with

Saki Santorelli
All-day Feb. 21, and evenings on Wednesdays of March 2021
– Registrations closed –
Les participant·e·s témoignent
Lire quelques témoignages d'une retraite en ligne à l'Institut Pleine Conscience.
The seminar
"DIALOGUE AND INQUIRY is the communal, heart-throbbingly beautiful conversation that is the heart and soul of MBSR and, by extension, all authentic mindfulness-based programs (MBPs).  Grounded in relationship and oriented toward the love of truth, this intimate, ongoing interchange with program participants is deeply human, self-revealing, and ennobling.
Identified as central to the development of mindfulness-based teachers, these conversations are often reported to be a major source of teacher apprehension and uneasiness.  This is not surprising.  These spontaneous interchanges compel us to step away from the shelter and security of course curriculum and structure and willingly risk: risk being present, entering unfamiliar territory, trusting in not knowing, meeting each person freshly.  A gesture of humility, bravery, and love, standing in such open space is not easy.  And yet, this is just what's required when we are called to escort others on their journey.
As a way of taking our seats, working with fear, and inhabiting these conversations more whole-hearted, our time together will be oriented around the experiential practice of dialogue and inquiry.  As a community of apprentices our learning will unfold through:
Inquiring into the nature of dialogue and inquiry in MBPs,
Inhabiting the inner source from which dialogue and inquiry springs and flows forth,
Guiding in small and large groups,
Reflecting on video recordings from Saki's MBSR classes,
Weaving dialogue with one person into the communal conversation and consciousness,
Offering and receiving peer and instructor feedback,
Practicing between sessions with course participants
The invitation is to practice together and join in honest conversation about what we find difficult, delightful (and everything in between) in our direct experience with dialogue and inquiry. The intention is to support one another as colleagues, students, and evolving guides. The essential aspiration is to serve others by becoming more embodied, heartfelt, and relationally-wise. »
Criteria to register:
To have an established daily mindfulness practice
To teach mindfulness (MBSR, MBCT, or other mindfulness-based program)
To have a high motivation to learn
To commit to respect the dignity of everyone when offering and receiving feedback
To commit to attend to the entirety of the program
Important precisions
Format: online (Zoom plateform). 48h before the seminaire, you will receive an email with the information to access to the "Zoom" room.
Language: the course will be taught in English with sequential translation in French. Please, be aware of this when registrating.