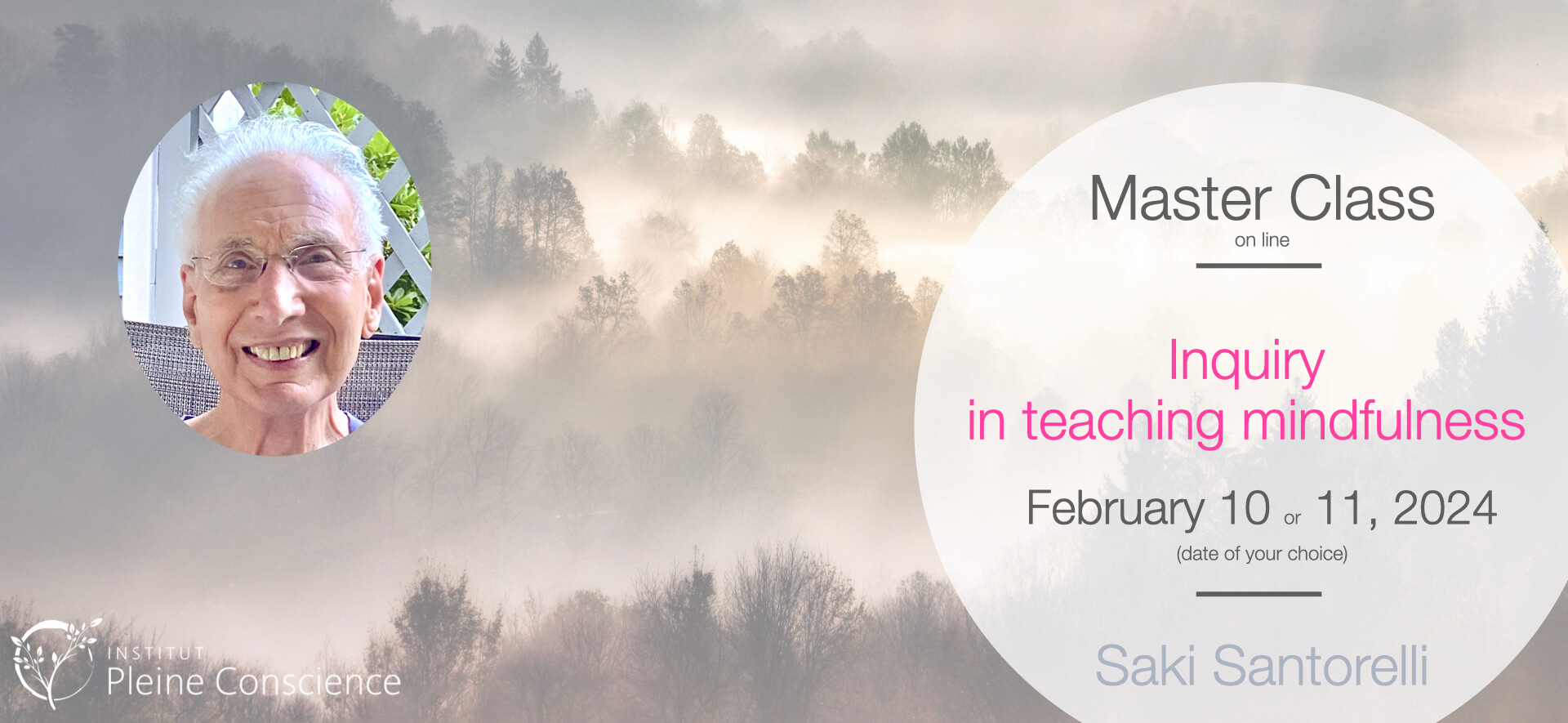 Why struggle to open the door between us
when the entire wall is an illusion.
– Rumi
« Intimacy beyond the wall:
An Inquiry Intensive for Mindfulness-Based Programs Teachers« 
Online Master Class
with

Saki Santorelli
Two dates of your choice: February 10th or 11th, 2024
– Registrations open: limited to 20 places per day –
Participants testify
Read some testimonials from online programs with Saki Santorelli at the Institut Pleine Conscience.
The training
As MBP teachers (Mindfulness-Based Programs), we know how sensitive and delicate the practice of « dialogue and inquiry » and its investigative dimension can be. Sometimes caught up in confusion or helplessness, finding a space to stop and listen in depth within a peer group is rare and precious.
We are delighted to offer a « Master Class » with Saki Santorelli to take the time, alongside him and a small group of instructors, to explore what unfolds in our MBPs and discover both the obstacles and the bridges that emerge in this practice of dialogue and inquiry, and which could open the way to new perspectives in our teaching.
The online format makes this day easily accessible. We have chosen to limit the group to a maximum of 20 people per day, to encourage an intimate dimension in exchanges with Saki Santorelli. To support access to this unique training, two groups will be formed, one for Saturday February 10th and the other for Sunday February 11th, 2024. You can choose the day that suits you, depending on availability. You can also register for both days.
Saki Santorelli:
« The content and format of this course are simple. We'll sit in a virtual circle just like our program participants.  Opening to an innate intelligence awaiting behind our familiar patterns and habitual thinking, we'll attempt to learn to inquire by listening through and speaking from our hearts. I'll offer individual feedback and suggestions to you while receiving the same from you so we can serve one another well. Across the day we'll explore three domains: the source, intimacy, and risk of dialogue and inquiry.
Here's a taste of the day: Devoid of template or technique, 18 to 20 of us will actively engage with one another in dialogue and inquiry as mindfulness practice.  Approaching the entire process as an intimate conversation, sometimes we'll engage in dyads inquiring into topics central to dialogue and inquiry….Other times, we'll listen for what's spontaneously arising among us and discern threads to be followed or left for another time. Sometimes we'll practice in small circles, exchanging roles as teachers and participants. We'll listen…We'll pause…We'll wonder aloud about the nature of a question and its intention, about roads taken and not taken in our interchanges.  We'll experiment with rephrasing as of way of getting closer to what we really want to ask and how we want to respond. We'll attune to the music of dialogue – the tempo, rhythm, and pitch of the exchanges as a means of creating simpatico, safety, and intimacy beyond the wall.  Together, we'll explore new ways of engaging in a conversation that carries us beyond the pursuit of a predetermined aim and into a living, breathing reality transpiring within and between us.
The day is intended to be intimate, inspiring, and highly supportive of our individual and collective unfolding as students of mindfulness and MBPs. »
Criteria to register:
To have an established daily mindfulness practice
To teach mindfulness (MBSR, MBCT, or other mindfulness-based program)
To have a high motivation to learn
To commit to attend to the entirety of the day
Important precisions
Format: online (Zoom plateform). 48h before the training, you will receive an email with the information to access to the "Zoom" room.
Language: the course will be taught in English with consecutive translation in French.